Just take a peek at the new generation of web browsers that are emerging to take Google Chrome's place if you need more proof that people are sick of it.
These are not just Chrome clones. Instead, innovative entrants are reimagining the basics of surfing with dramatically different interfaces for managing your tabs and accomplishing tasks, including Arc, SigmaOS, and Sidekick.
Along the way, they are also reconsidering the web's ad-driven revenue structures. They all include ad and tracker blocking as table stakes features, unlike other alternative browsers like Vivaldi and Firefox that rely on search engine partnerships, sponsored bookmarks, or other types of advertising to make money.
Why now? We are using online browsers on our laptops and desktop computers more frequently than ever because of the shift toward remote work, yet conventional browsers are not designed to handle the kind of complex web apps and in-depth research tools needed for modern office work. However, popular browsers like Chrome lack the will to change their user interfaces or upend their own tried-and-true revenue models.
As a result, a flurry of browser startups have found a niche and are vying for people who prefer something unique.
Dmitry Pushkarev, the CEO and creator of Sidekick, claims that "the way most browser firms generate money is they monetize your search and attention." They have very little motivation to invest in tools and features that increase your level of comfort, productivity, and orderliness.
Here are some of the most exciting brand-new browsers to launch recently:
Tabs As Taska, SIGMAOS
With a vertical tab arrangement as the only choice, SigmaOS reimagines your tabs as a sort of to-do list. You can either mark web sites as "done" or snooze them for later rather than closing them.
Additionally, SigmaOS avoids having several browser windows by using "Workspaces," which are collections of tabs that you may flip between using a sidebar menu. (The browser does allow you to view two pages simultaneously in a split-screen mode.) The backslash key brings up a universal search bar for open tabs, workspaces, your browser history, and web search, which is another important aspect of keyboard shortcuts.
For beginning users, the resulting experience does have a learning curve, but with time and practise, the idea is that you can develop a type of rhythm and move through each Workspace until nothing is left to do.
Although he withholds user figures, Mahyad Ghassemi, founder and CEO of SigmaOS, claims that the browser is growing popularity among startup owners, content producers, and student researchers.
These are the folks, according to Ghassemi, who need to multitask the most and handle a lot of different tasks at once but can't risk losing their attention or their precious time.
Mac OS is a platform. There "may or may not" be an iOS version planned.
Business model: Unlimited workspaces, cross-device syncing, and an ad blocker are available with the $8 per month "Personal Pro" subscription.
SIDEKICK: Apps Are Everything
Google's open-source Chromium browser serves as the foundation for Sidekick, which then builds upon it with a layer of productivity tools.
For instance, you may transition between web programmes like Gmail, Notion, Dropbox, and Trello using a persistent sidebar. You can also expand the sidebar to aggregate open tabs into "sessions." A universal search bar, meanwhile, enables you to swiftly browse all of your apps, websites, and online documents from a single location.
However, some of Sidekick's most brilliant suggestions are also the most obvious: There is a menu bar button that opens two sites in a split view, a Ctrl-Tab shortcut for switching between recent tabs, and a button to silence all browser notifications and unread badges.
Pushkarev claims that Sidekick hides part of its complexity at first in order to prevent Chrome-accustomed new users from abandoning it. Due to integrated ad blocking and a recent code rewrite, Sidekick still feels lightweight despite all the additional functionality.
Although Sidekick has tens of thousands of users and is now growing mostly through word of mouth, Pushkarev claims that just 7% of them are paying subscribers. He thinks Sidekick can create a robust subscription business by easing knowledge workers' browser usage.
It was never the intention for Sidekick to take the place of Chrome, he claims. What we want to do is improve the situation for the 1% to 2% of people who rely on browsers to do their tasks.
Windows, Mac OS, and Linux
Business model: A $12 monthly "Pro" plan removes sidebar app restrictions and includes additional capabilities including split-screen view and bespoke apps.
ARC: A Bold Reconsideration
Arc feels the most polished of all the attempts to rethink the web browser. The address bar, navigation buttons, and a vertical tab list are all squeezed into a left sidebar menu, which houses almost all of its functionality. Even though it doesn't resemble Chrome at all, the new design is made to feel approachable by a host of warm tiny details.
On a website like Spotify, for example, a mini-player will appear at the bottom of the sidebar once you start playing music. When you switch tabs while a video is playing, picture-in-picture mode will appear by default. When you move the cursor over the Gmail or Google Calendar tabs, a little preview of any unread mail or impending events will appear. To open a tab in a split-screen mode, drag it onto the active webpage.
The Browser Company, the company behind Arc, is a startup that, according to Protocol, has raised more than $13 million in venture money. It just recently ceased requiring beta testers to sign non-disclosure agreements.
Thus, I can conclude that Arc is the neo-browser that I've so far most enjoyed using, but it's also the largest unknown. It lacks a clear business plan and has been conducting a number of bizarre experiments on top of the basic browser, including the creation of Boosts, a tool for editing websites, and Easels, a service for sharing web scrapbooks. It's difficult to shake the idea that The Browser Company might change course or sell once its significant VC investors begin to demand a return on their substantial investments.
Platforms: Currently Mac; Windows will follow.
Still unsure on the business model.
Better for everyone, Orion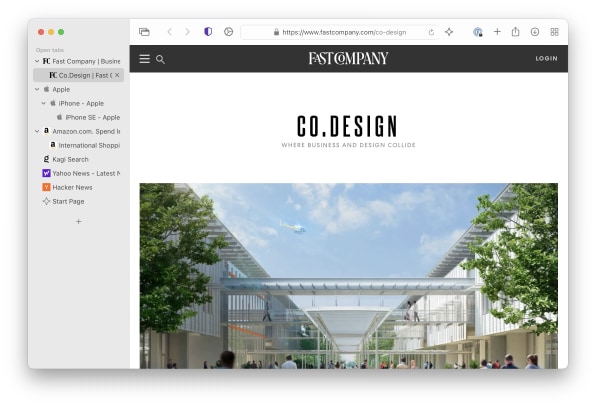 Orion may be the reboot you're looking for if all these alternative browsers strike you as being a little too radical.
On the surface, Orion isn't radically different from Apple's Safari browser because it keeps useful tab overview button and customisable toolbar. Even yet, it takes an even more aggressive attitude toward user privacy, disabling all advertising and trackers by default and collecting no telemetry from them. It also employs vertical tabs rather than horizontal ones as a nod to power users who have realised the benefits of tab management.
Orion's creator Vlad Prelovac insisted on adopting Apple's Webkit rendering engine because, according to Prelovac, it is faster and far more battery-efficient than Chrome and Chromium-based browsers thanks to MacOS enhancements. However, he also wanted to support Chrome and Firefox extensions, so over the course of the last few years, he's been bringing in the required APIs to enable that.
Prelovac's goal is to rewrite the fundamental terms of the web, not only to create a better all-purpose browser than Chrome or Safari. Orion's funding comes from optional subscriptions that don't grant access to any new features but do give users more influence over the browser's future development.
Users have the option to make Kagi's private search engine, with the same name and a subscription business model, their default search engine in Orion. Kagi is a subsidiary of Prelovac's corporation. According to Prelovac, the Kagi search engine has "thousands" of subscribers, and since going into public beta a month ago, Orion has drawn more than 100 donors. He claims that by using these models, Kagi is able to fully align its objectives with those of its users.
It's a part of a new trend where people are rejecting how the web is now structured, which is entirely ad-driven, he claims.